Table of Content
Know About the Core Details of Product Management Process Below

When developing a software application, you always need a plan that can oversee all the process. This is important because working with a plan helps you to stay focused on the development. If you will not go with any strategy, then management will become difficult for you. That is why it is always advised to follow a product management process while developing a software application. It gives you a pathway to manage everything efficiently, so that the product can be developed rightly as per the given requirements.
Unfortunately, many beginners do not have any idea about product management process. They usually jump into the development without any strategy, which is certainly a very wrong approach. It does not help them to move forward in the process, as void planning simply leads to nowhere. It not only wastes their time, but also plenty of efforts in the process. It is therefore recommended to first get some grip on software development methodologies, so that you can start the development with a clear concept in mind.
The knowledge of product management process is not just helpful for beginners, but it is also worthy to learn for experienced professionals. The reason is that product management process helps you to deal with different types of projects. From mobile apps to enterprise level applications, product management process help you to build and maintain every project efficiently. In this blog, we will discuss more about it in detail, so that beginners can understand its overall workflow.
However, before moving straight into that, let us first start from the basics below understanding what is product management process and why it is termed important for software development.
What is Product Management Process?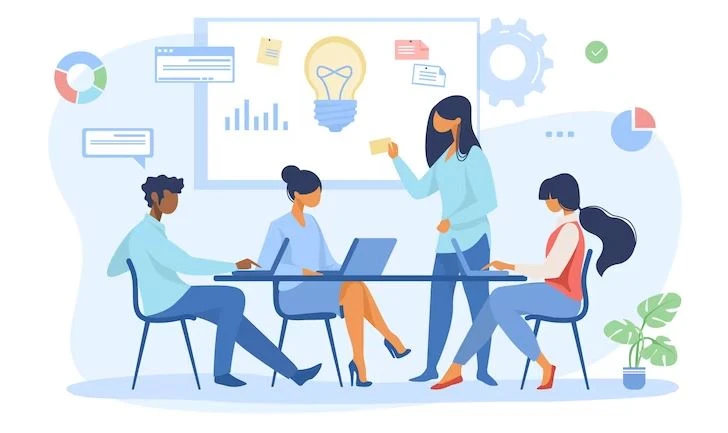 When it comes to develop an application, you need to follow a plan. This is quite an obvious thing that is well understood to developers. By working with a plan, developers can plan out every task timely and can manage different things effectively. The project management process refers to this exact concept. It states to work with a strategy that can help you to build, manage and scale software applications on the go. It gives a complete plan how project ideation, development and maintenance should be done in order to achieve success at the end.
Whether you are offering mobile or web development services, implementing a product management process is considered important for all. It is quite crucial for beginners to understand the overall concept of product management process. The reason is that beginners usually lack the experience and knowledge of the market. Hence, they need to first understand the process that is recommended for software development. If they will not pay attention to it, then their time will only go into vain wasting hard efforts.
With the help of a product management process, a strategy overseeing the development from start to finish can be formulated easily. It helps to eradicate all the confusions, so that you can move forward in the development without much disruptions. Being a product stakeholder, it is quite important for you to know about this process, as it helps in decision-making and taking proactive measures timely.
4 Steps of the Product Management Process
Many beginners often fail to understand the product management process. The reason is that they do not understand its basics, as how does it work or what type of steps it require to function effectively. This is a problem that should be addressed with the right answers.
Fortunately, we have defined the complete steps of product management process below to let you understand how it works. It will definitely prove to be a good read for the beginners, so without wasting much time, let's take a look at it.
Product Ideation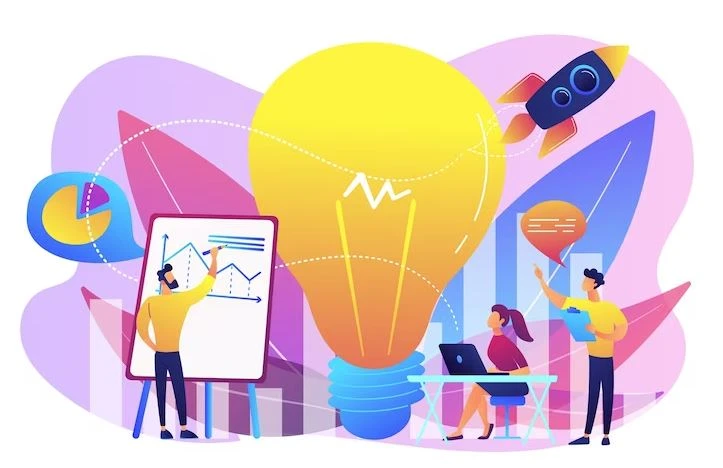 Product ideation always comes first at the start of the planning. It is considered compulsory for every product because without ideation, you cannot move forward in any project. It is the responsibility of every manager to oversee this phase precisely, as everything afterwards depends on the ideation. If you will not pursue right plans or follow correct digital transformation strategy, then things will definitely become difficult in your project.
It has been seen commonly that beginners do not pay attention to the ideation phase of software development. They usually go with random plans to build any application which eventually fails at the end. It not only wastes their time, but also plenty of hard efforts spent in the overall process. So, to avoid it, you need to pay attention to the ideation phase no matter how much time it takes. It ensures to chart out a plan that gets further optimized in the stages coming later in the process.
The ideation phase also allows you to perform a comprehensive research of the market. It becomes very handy in knowing about the latest trends of the industry and how others are developing software apps. So, it is quite important to utilize this phase wisely, as many actions in the development process depends fully on the ideation.
Identify Customer Needs
Next up, you need to identify what are your customer needs. This is an important information that needs to be known quickly. A lot of times, product owners do not pay attention to this fact, because most of them think that customers will buy their products easily. Well, it should be noted that selling something to the customers is not a piece of cake, as it requires a complete strategy to crack conversions. Those who are well versed with the market can understand this difficulty and hence plan their operations according to it.
To identify customer needs, you need to first look into the problems they are facing currently. This will let you know how to resolve them to get the attention of customers. It is quite a simple concept that works for almost all types of products. Not just digital, but any physical product also requires similar research and analysis. It helps you to know the areas where customers are looking for solutions, especially when the problem is persistent.
Once you understand the problem that is being faced by the customers, you will get to know how to resolve it. This is the basic model of problem identification that works perfectly for software products. There are other confluences as well that needs to be added in it, but the most important one still remains the evaluation of core problem.
Create a Problem Solving Model
After identifying the problem, you will come at a good position to know how the problem could be solved. However, having this knowledge is not enough, because proposing a solution in a feasible working model is required at the end. Basically, you need to define a model that can be easily understood to the customers. A lot of times, even a perfect solution does not works with the customers only because of being less feasible to them.
So, it is quite important to first build a software development framework that can present the solution nicely to the customers. It is something that lets them understand how the application is working, as well as how it can resolve their problems quickly. This problem solving illustration always helps to grab customers attention. It is the go-to tool to convert them towards the product, especially if it is related to the tech industry.
If you do not know how to create a model that can exhibit problem solving capabilities, take a look at the examples of industry's most-running software products. It will give you a brief overview how a perfect model should be made to get customers' attention. Just keep in mind, that the examples you take should be related to your industry, as that gives better opportunity to understand the theme.
Develop a Roadmap
Now, you need to create a roadmap that can define how the product should be built and managed over the period of time. This is one of those things that is often ignored by the product developers. The reason is that most of them only pay attention to the development of product. They do not devise any plan for future maintenance, which is certainly a very wrong approach. It is basically considered a partial approach that do not guarantees any product sustainability in the future.
It is therefore recommended to not just develop, but also give attention to application lifecycle management. This can be done by creating a roadmap for the whole product management plan. As an owner or stakeholder of the product, you need to devise this plan wisely by keeping several key aspects in mind. This will help you to think broadly about the product, as how it can currently develop and evolve in the future keeping important industry trends in check.
By creating this roadmap, you will get a complete plan how to move forward with the product update year by year. It is certainly an important strategy to give your product a long life in the industry. All the top tech products in the market like Microsoft Office, Adobe Photoshop and more have been created with the same strategy, hence you can learn a lot from their case studies in terms of creating similar product plans.
Frequently Asked Questions
What is a product management process?
Product management process refers to the plan in which you decide about the development and maintenance of an application completely. It creates a complete plan to manage the application, so that you can understand the overall product pathway.
What is the importance of product management process?
Product management process is termed very important. It helps you to know how the product should be developed and maintained over a long period of time. This information is quite important as it helps you to prepare better for the management.
How many steps are involved in product management process?
There are several key steps involved in the product management process. Starting from ideation to identifying customer needs, these steps must be understood firmly to create an effective product management process.
How to use product management process while creating mobile apps?
Product management process can be efficiently used while creating a mobile application. First of all, you need to do the ideation smartly, then you have to create a complete roadmap that can define the overall product pathway. That is how PMP can be efficiently implemented while creating mobile applications.
How many types of product management frameworks are used by the managers?
Project managers use different types of product management frameworks as foundational tools. It includes BCG Matrix, Product Vision Board, AARRR Framework and more others.  
Final Words
That takes us to the end of this article in which we have discussed about product management process in detail. Being a project stakeholder, you should have a sound knowledge about product management process. It is considered very important to help your project evolve rapidly through time. In this blog, we have discussed about it in detail, so that you can understand how it works properly.
Meanwhile, if you are looking for a company that can help you to create software apps using a proper product management process, get in touch with us today. We will help you to create advanced applications rightly as per the needed requirements.